Hi Egos, it's been a crazy weekend but Monday has finally caught up to me. Today I want to share another addition to my household. It's something that I've wanted for so long and now I finally have it: A dishwasher!
Some of you might laugh and that's okay. But once you live on your own you will know how much you appreciate one. Now the reason why I didn't have one in the last apartment was because there was just no room for the pipes but also none for the dishwasher itself.
This time it was a little bit of a stretch too but as the saying goes: Where there's a will there's a way! So I read a little bit about installing a dishwasher and what you need, got all the stuff and bought the damn thing! Little did I know that the box it came in was so heavy and huge that I couldn't lift it myself. Luckily a colleague of my sister carried it all the way up to the fourth floor of our house.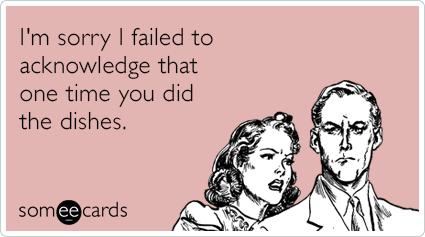 Because it's been a while here's a little related ecard for you :D
Next was only connecting all the tubes with the ones I bought and the ones hanging from my wall. Sounds easy doesn't it? It wasn't! Two hours and an intense Skype chat with my father later it was all solved though.
Now I have shiny and clean dishes that only need to be put in their respective cupboards. <3 No chipped nails, no ruined nail polish, no dry hands anymore! Plus because of its size it's so cute to look at :D
How about you? Do you have a dishwasher?
C U Egos!